We check in for part 2 of Privateer Life with Jake Newell and friends, you can check out part 1 here.
Week 4:
The next day we packed up and headed for Schladming for a few days of riding. By now we had about 6 vans of Aussies and Kiwis in the fleet so it can be a bit of a struggle to get everyone together and ready to leave, especially when hungover. We got there about mid-day and went up for some arvo runs then made camp in the underground parking lot for the night. There was some heavy rain over night which made for some sick riding the next day. We packed up and left just as another storm came through, and headed off to Innsbruck for round 2 of Crankworx. The drive was only about 3 hours and we arrived at around 9pm. We had heard that the Crankworx opening party was on in town so we parked the vans up close by and headed to a rooftop bar for the party that went into early morning.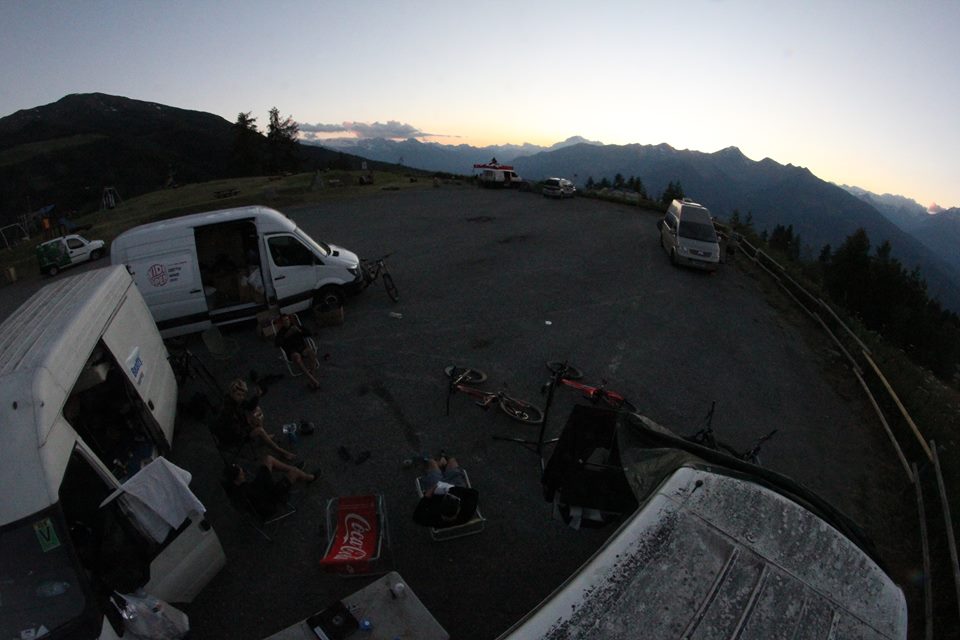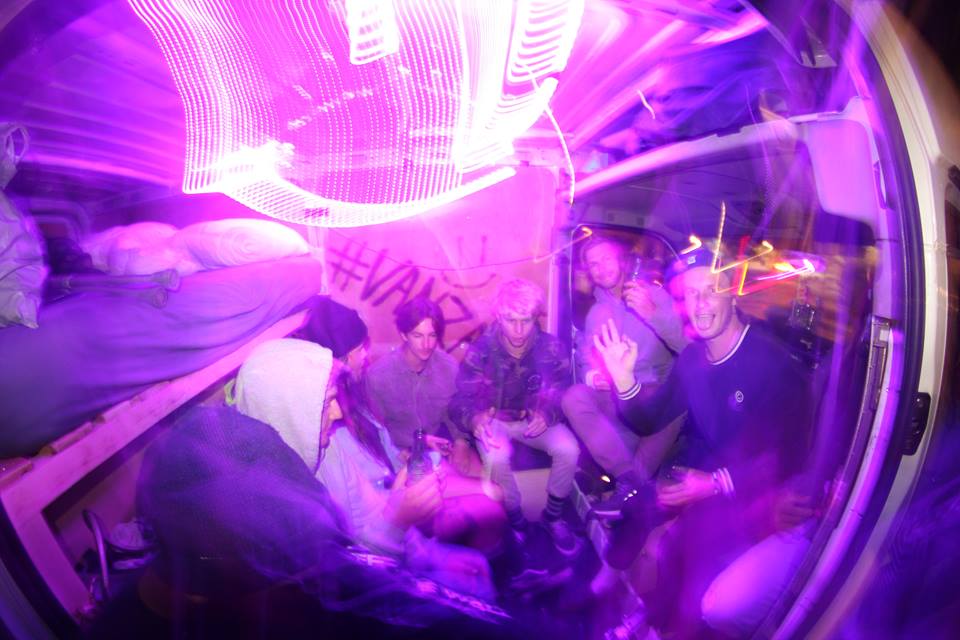 Once we all woke up we headed up to the track and made camp in the athlete camp ground. We rego'd and then we walked the track, it looked sick! Fresh loam, roots and mostly natural. I was loving the track so much in practice I was pretty much just riding and not thinking about going fast. Thursday arvo was whip off at the top of the hill overlooking the lake and town. There was a huge line at the lift and I got up there late only getting in 2 jumps but still made it to the finals and got to throw down with everyone! With 2 days of DH practice and a few hours in the morning of the race I was feeling good. I was about 1/4 of the way down in my race run when I went around a flat right hand corner, lost the front and went over the bars. I got back up and finished with no more major mistakes and ended up 45th. Sunday nights are pretty dead in town so we went out for dinner and got to bed early.
Week 5:
The next morning we left to start the drive to Les Gets for Crankworx round 3, I had pretty much been travelling alone until now. I heard there was a Kiwi junior, Jonty Vink, that had flown to Innsbruck and was going to try gypsy his way to the next 2 world cups. I sent him a message and picked him up as we left. On the way we stopped into an indoor sports complex that had an indoor skatepark and an airbag jump. We were there for a few hours riding the bag jump, then continued onto Les Gets. A mate of ours runs Bike Morzine (mountain bikers accommodation) so he helped a few of us out with accommodation for the week of Crankworx. We had heard that there were no changes on the DH track from the year before so we didn't bother with a track walk. Thursday training went well, the track was super dry and dusty. Thursday afternoon was whip off again, a few of us made finals and Dave McMillan took home a 3rd place for the Vanzacs!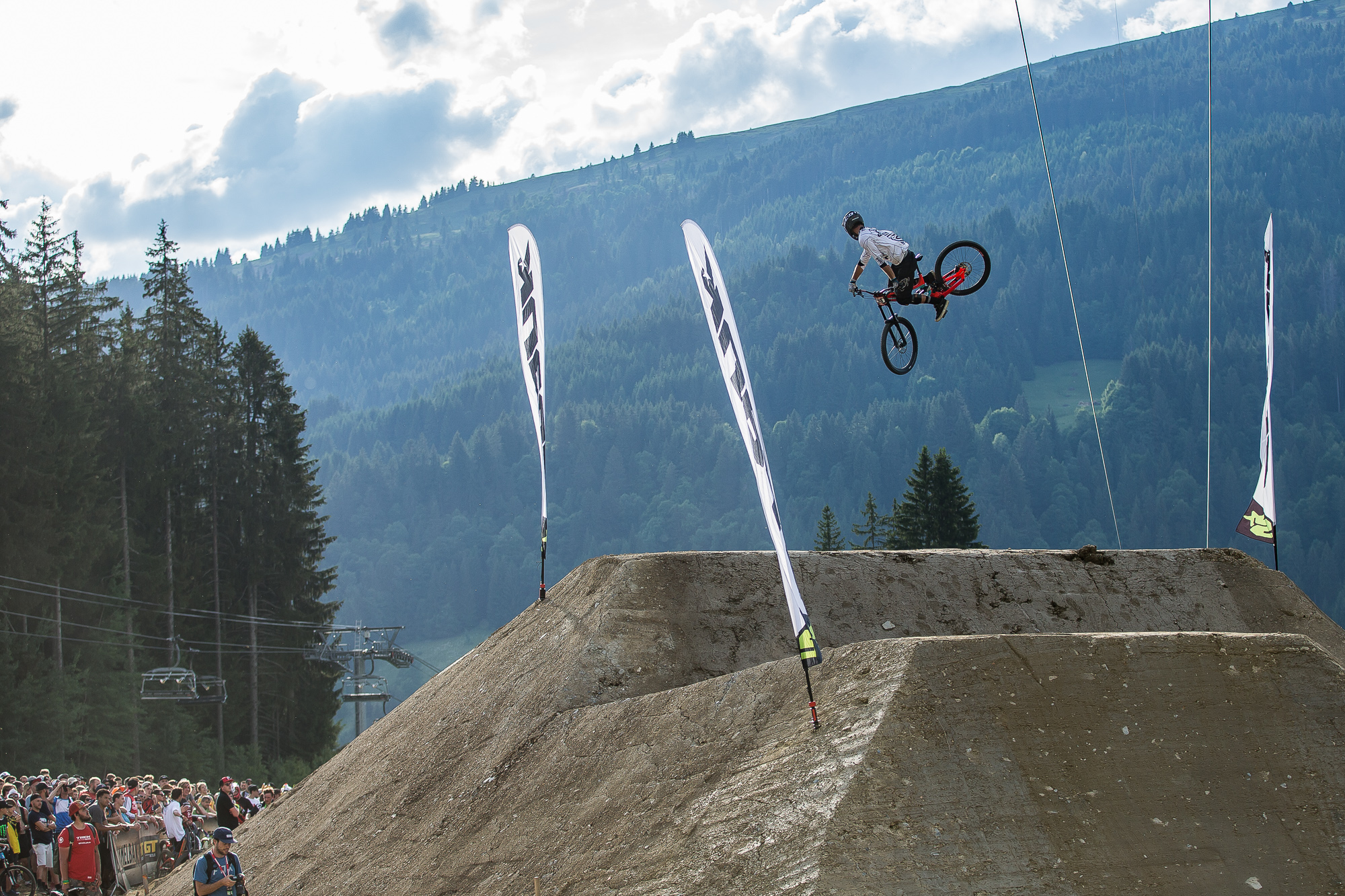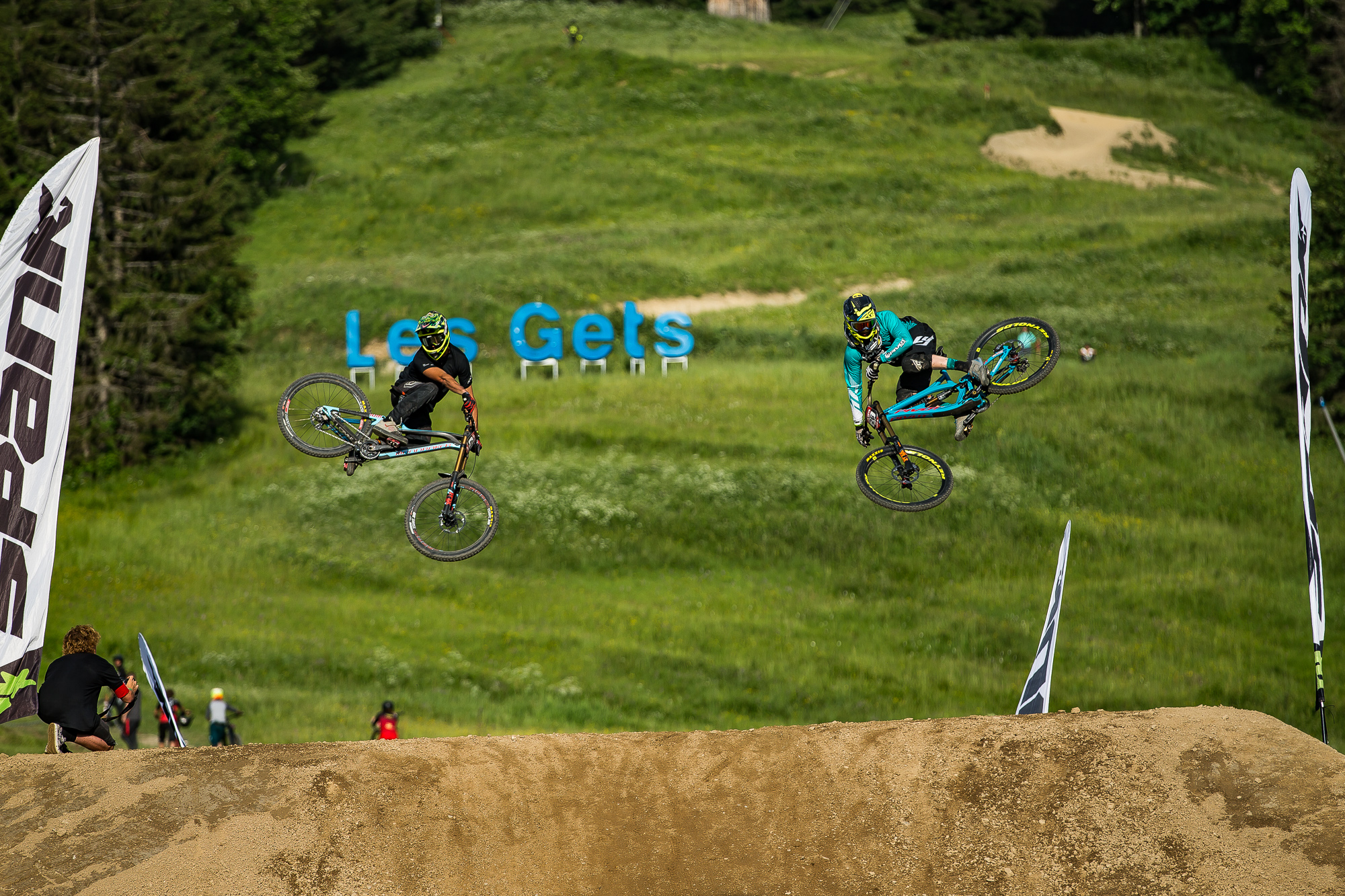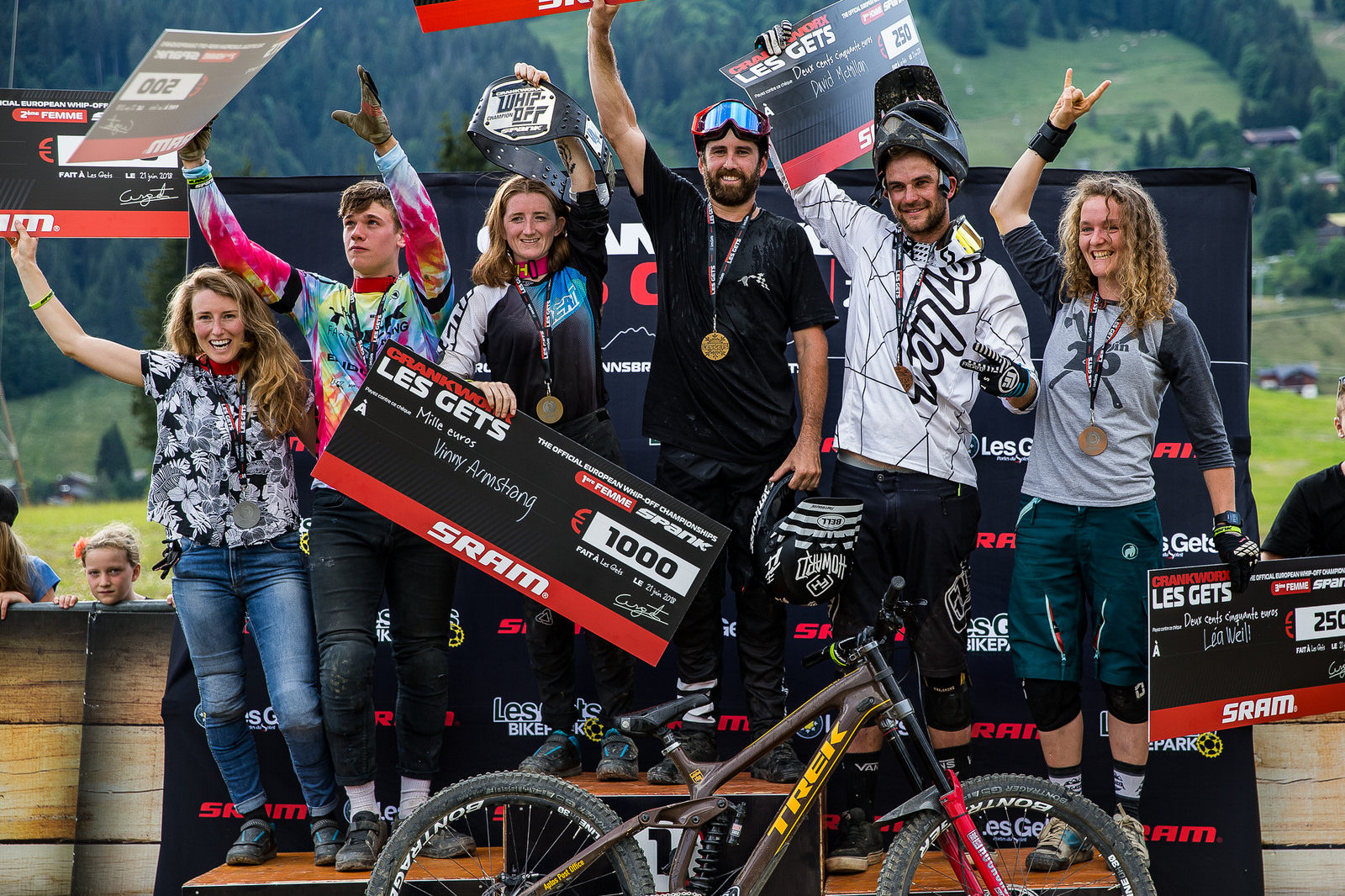 Friday I had practice for the Les Gets DH and also the Mont Chery DH. The Mont Chery DH track was allot different to the other track, it was slower, more tech and had some jumps. Racing for Les Gets DH was on Saturday, I was having a good run until I lost balance in a tight section and came to a stop. I placed 47th. There was a big party in town that night so we got the vans together and started it off in the pits.
On the sunday was Mont Chery DH. I had a few practice runs in the morning but in my race run a tree root smashed my rear rotor and I lost my brake, so I just rolled to the bottom.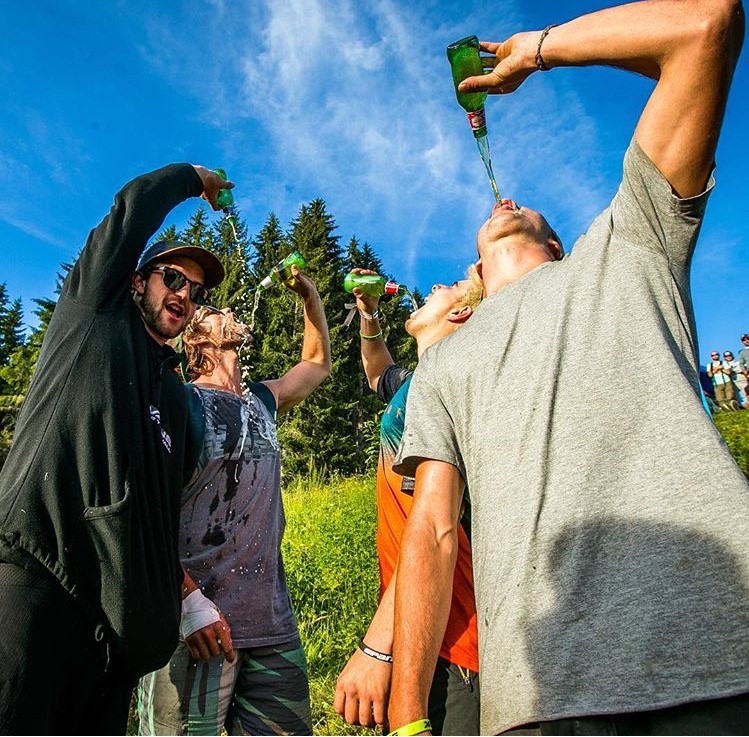 Week 6:
With no racing for a few weeks we based ourselves in Morzine to relax and do some riding. On monday a crew of about 10 of us drove 40 minutes to Samoenš for some trail riding. If you're ever in Morzine this place should definantly be on the list. 15 minute gondola to the top and about a 30 minute descend with a few stops, fresh hand built trails at the top into natural loam, rooty tracks at the bottom. I think we did about 4-5 laps in 5 hours and didn't ride the same track twice.
On Wednesday we headed to Pila for a few days. It was super dry but still allot of fun.
Saturday we headed around to Morgins near Champery for opening day, you can take the lifts up and down a few mountains from Morzine to get there but it takes a while so we just drove. The park had been closed for a few years but they had received funding to reopen and put allot of work into the tracks to reopen. It has a mix of everything and definantly another one to add to the list!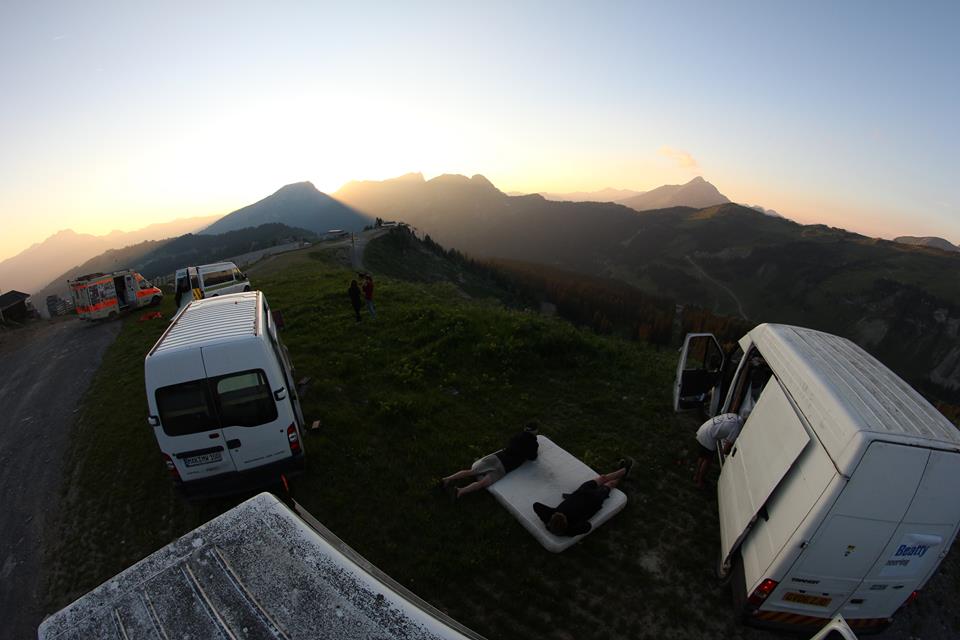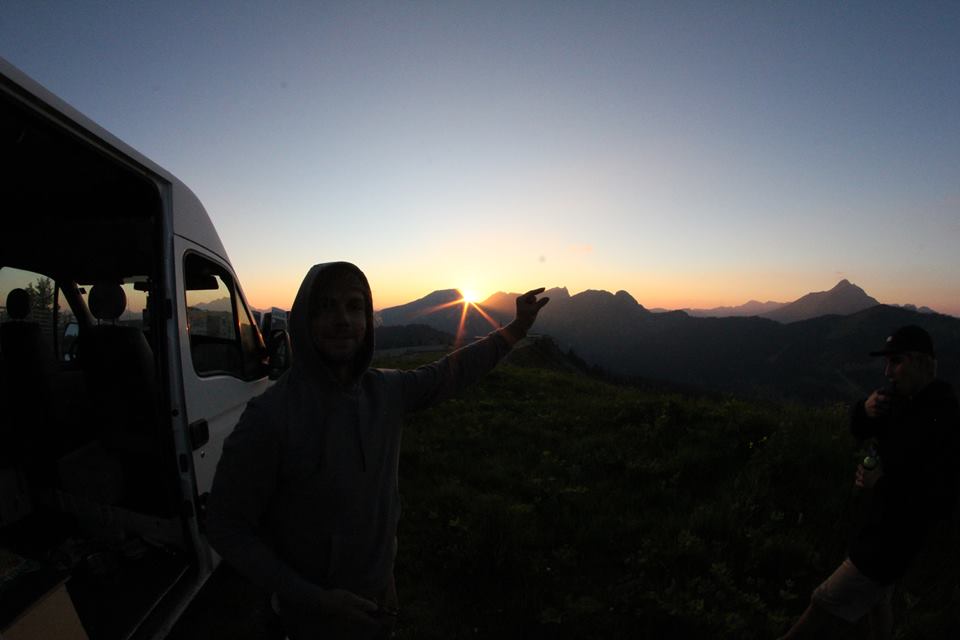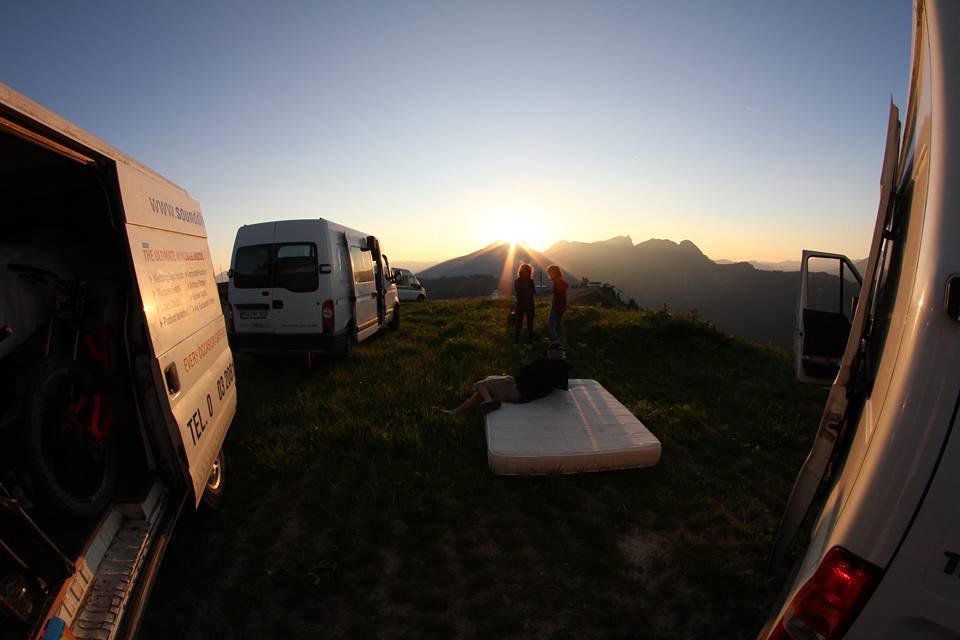 Week 7:
On Monday we packed up and headed for Val Di Sole. A few of the vans were heading to Megavalanche, some were staying in Morzine and the rest had gone elsewhere, so it was a 1 van convoy with myself and Jonty. We decided to drive through the Alps which added about 2 hours onto the 6 hour drive but we would avoid the 50€ Mont Blanc Tunnel into Italy, but little did we know there was another tunnel the way we drove that cost the 48€ , and we also lost our left mirror to a roadworks barrier.
A tip for anyone driving to Val Di Sole, dont just type "Val Di Sole" in the GPS. The name of the town is Trentino, Val Di Sole is the name of the whole mountain valley. We arrived into the area at about 11pm, and the gps took us up a single lane road for 15 minutes, through a tiny town, between 2 houses that we had to fold the mirrors in to get through and up a dirt road with a cliff beside us and no lights for about 20 minutes, thinking we would pop out onto a main road. When we realised it was definantly not the way, we turned around and drove back the way we came. After some research we kind of had an idea of where to go, and eventually reached the track at about 1am.
There was rain forecast at about 3pm every day for the whole week. The track is one of the gnarliest on the circuit this year, full of roots and rocks, and rain would mix things up a bit. First day of practice was hard, trying to learn a track like this and it had been raining the night before. It dried out after a few runs and i was feeling good. But the afternoon rain came as i was on the way up for another run and the track was completely different. I think i had 3 crashed that run. The next day i think i got 3 runs in practice dialling in my lines. Junior men and women had finished qualifying and as elite women were half way through the rain came! By the time it was my run the track was a mess. I held it together through the worst of it, but about halfway down i lost control and rode through the tape and down a bank. I struggled to get back up the bank to where i had exited the tape, but finished my run and ended up 82nd. That was probably one of the worst conditions i've ever raced in. Towards the end the sun was out and the track was drying up super quick. To give you an idea, out of the last 20 of 160 riders to come down, 7 qualified.
We stayed around on Saturday to watch finals, then packed up and started the 13 hour drive to Andorra.
Week 8:
We drove about 4 hours on Saturday afternoon and pulled up for the night. The drive runs along the coast of Italy and France, so the next morning after a few hours of driving it was about 30 degrees so we pulled off the highway and stopped into a little beachside town for a swim and some food. It was dark by the time we arrived, so we got some food and went to sleep. On Tuesday we spent the day trail riding and cutting laps of the park. Wednesday was track walk, and practice started Thursday. With some heavy downpours during the day, the track was slick and wild, but really fun! I felt great during practice but made a few mistakes in qualifying, meaning i was out of the main show again! There was some great racing on saturday, and I don't know why but the after party seems to be the most wild at Andorra!
The week before, myself, Dave, Jackson and the Pivot mechanics decided to enter La Thuile EWS. So we packed up on sunday after the XC and headed off.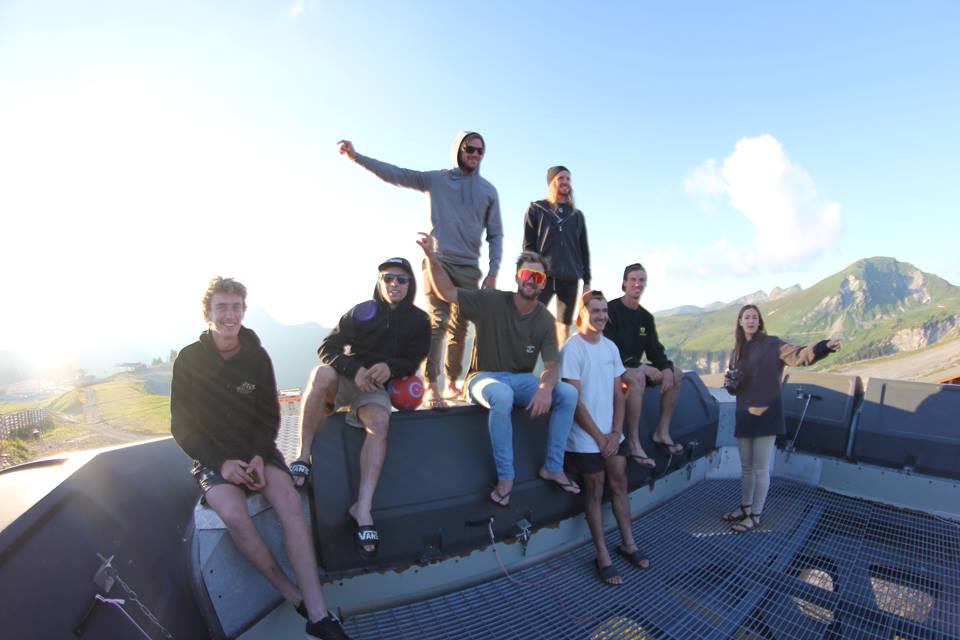 Check back for the final part of the adventure soon…
Images: Jake Newell (Instagram @_newellydox_ )
Get more content on Facebook or follow us on Instagram & Snapchat: @downhill247