The third and final part of Jake Newell's overseas adventure! You can check out part two here.
Week 9: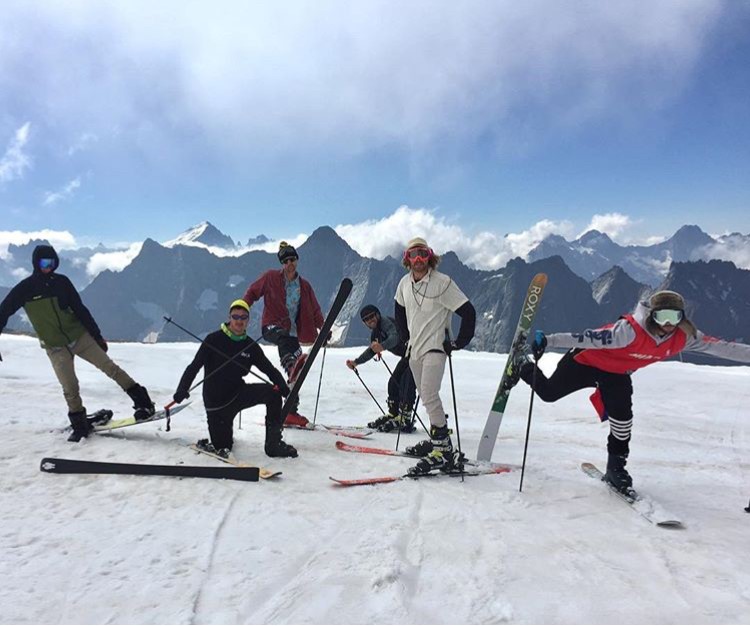 Its a ritual that every year there's a ski trip in Les 2 Alpes on the glacier, and being so close to La Thuile we would head there after Andorra. Its about 50€ for ski hire and lift pass for the day, one of the funniest days of the trip for sure! As the pivot boys only had the race truck, they left it in town and we took my van up the mountain. On the way down, the police had a road block as the Tour de France was on, and they were searching sketchy looking cars. Of course we got pulled aside, and it didn't go down too well when they opened the side door and there were 4 people sitting on the bed. The over reacting GI-Joe with a mouth full of black teeth raised his voice and told us that "if you do not co-operate, I will make this the worst week of your life".
It didn't phase us as we hadn't done anything (that) illegal. So after an hour or so of stuffing around, I was given a 200€ fine for overloading and had to drive back into town to get another van to pick the rest of the boys up that were left at the police station.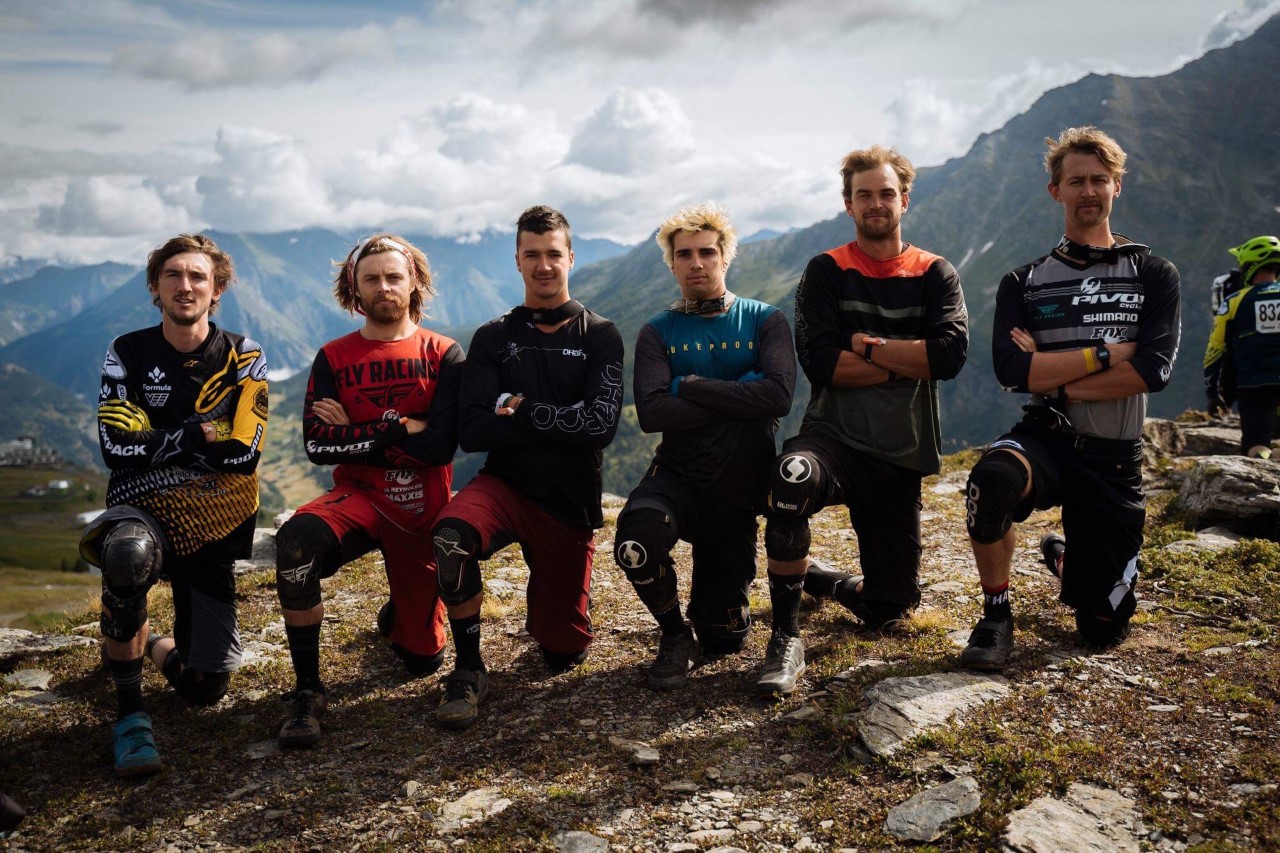 The Pivot truck had left an hour early to get a head start as we had to come the back way into La Thuile over a mountain pass. I was convoying with kiwi Matt Walker, when about halfway into the drive he suffered a blown rear tyre. That's when we discovered he didn't have a spare, and mine was the wrong stud pattern. We drove a few minutes into the next town, in the middle of no where and nothing open, where the truck met up with us 10 minutes later with some more bad news. As the Tour de France was heading through the mountain pass we needed to drive through, the road was closing from 9pm that night and it was already about 8.30pm. After acquiring a replacement wheel, and a carpark vending machine pizza for dinner we set off to the mountain pass to try our luck. At about 11pm, we tailgated some tour trucks past the first checkpoint, but got held up at the next one. With no credentials, security wasn't budging. After the day we had just had, Tom Lowis the pivot truck driver wasn't taking no for an answer. After about 10 minutes of heated words to some poorly English spoken security, they let us through. It was only about 20 more minutes until we reached La Thuile.
The following day we loaded the bikes in the vans and headed back up the pass to go and watch the finish of the Tour stage.
It was pretty awesome to see and a great experience!
The following 2 days we had practice. Its a bit different from DH, with five – ten minute stages and only 1 run on each stage. Surprisingly you can remember a fair bit on each stage. With racing spread out over 2 days, by the 2nd day we had some heavy rain and a few changes were made. One track removed and another we had to race twice. It was allot more chilled out and fun than the DH races, as we were there for fun and to just ride. Dave ended up on top out of our little group of 6, and I placed around 70th overall. Big ups to Eddie Masters on taking 3rd overall! Enduro is as hard and as tiring as I expected it to be.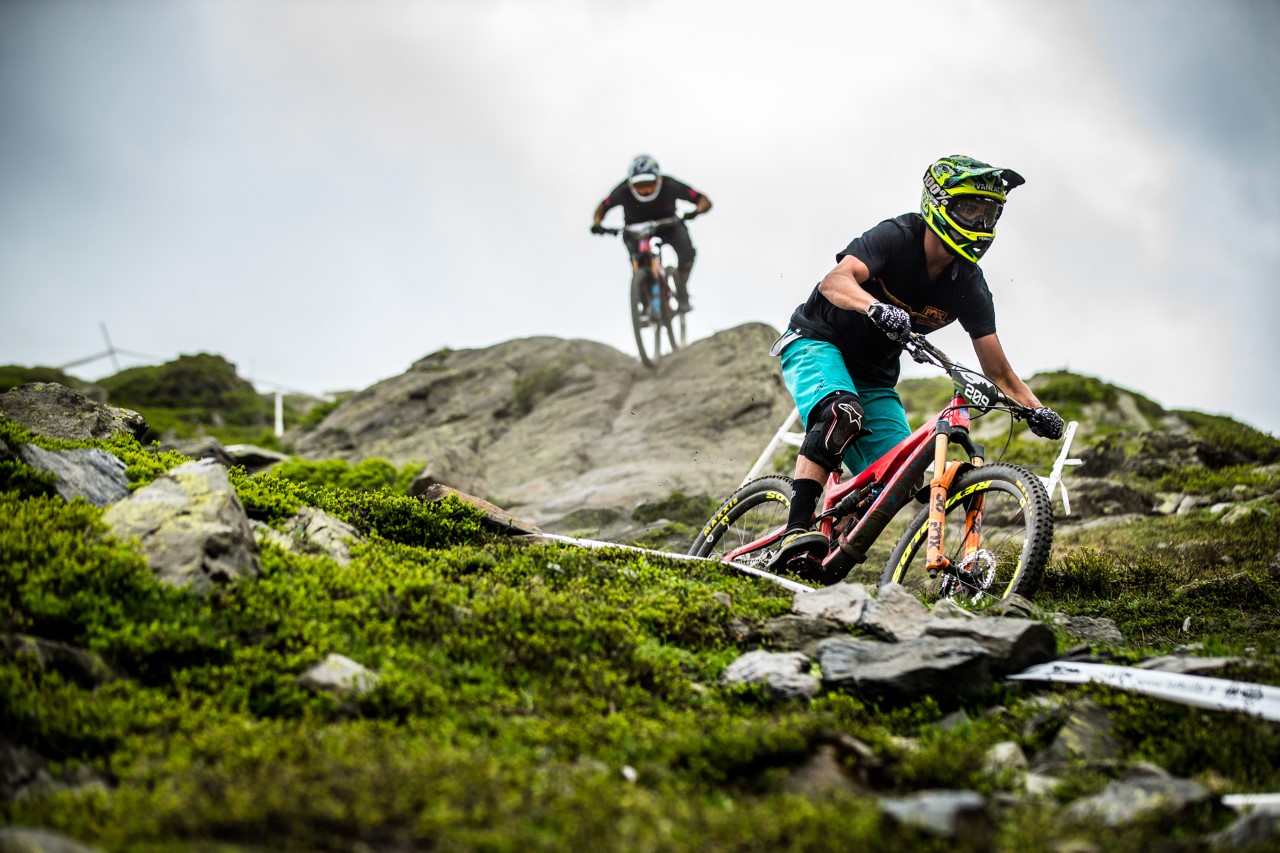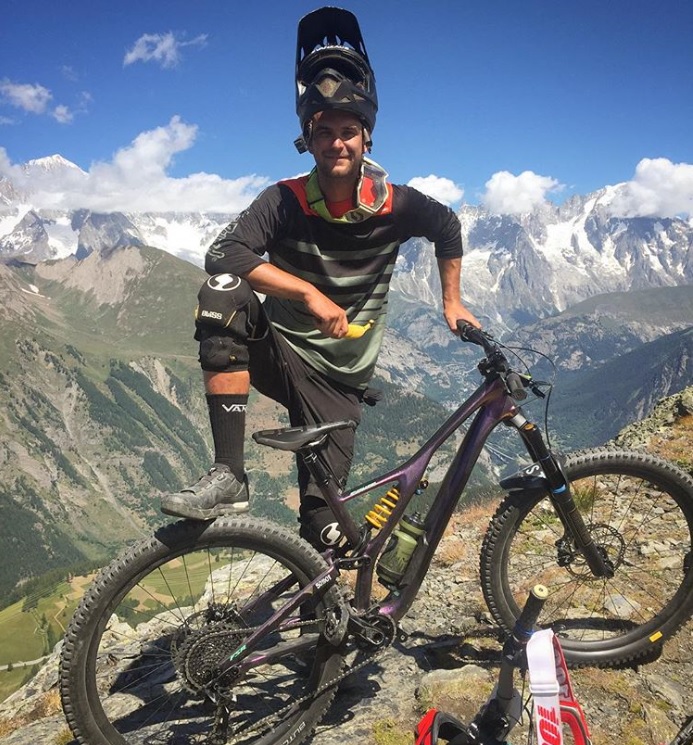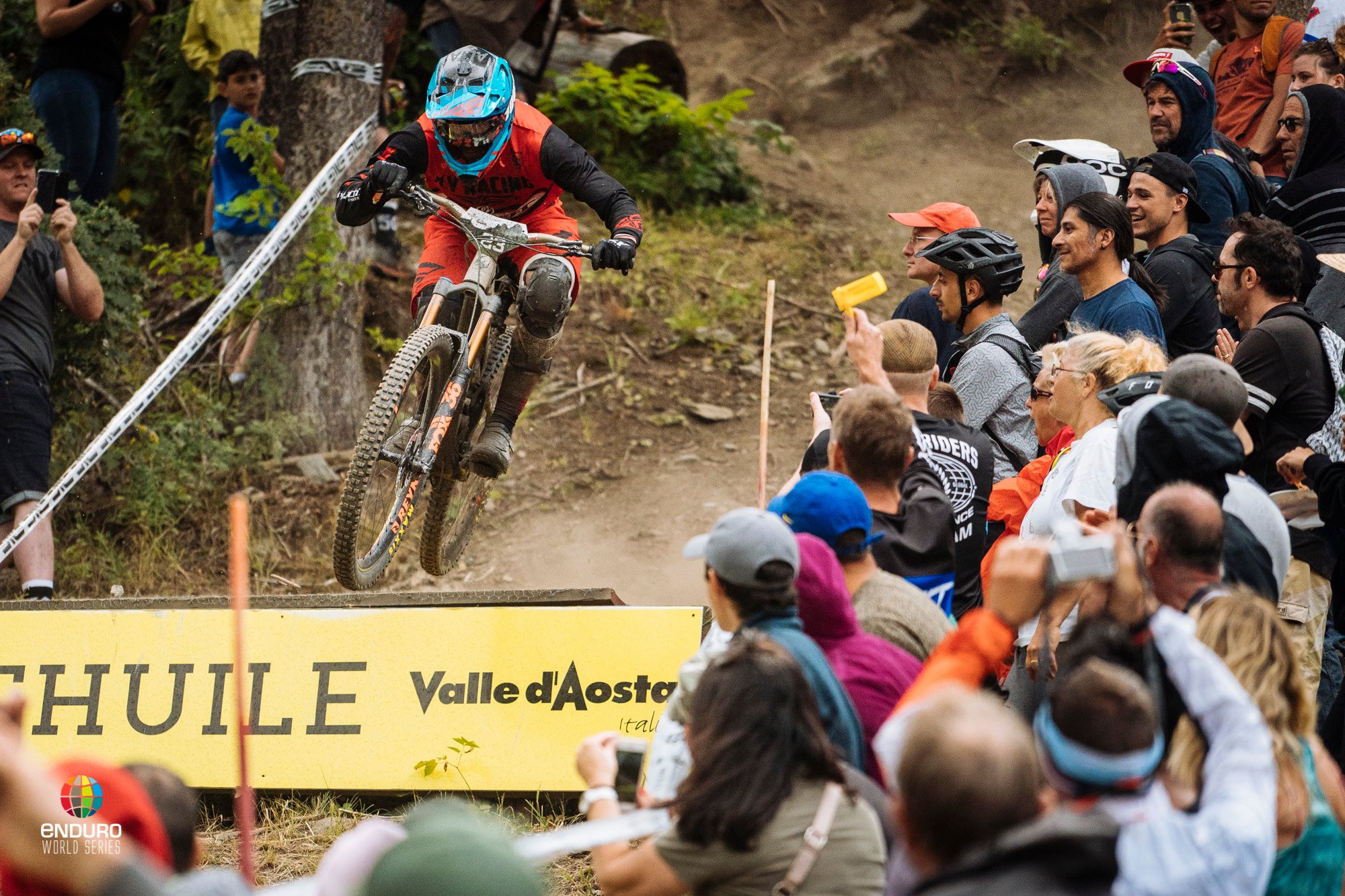 After the race we had a Vanzacs vs 50to1 (skins vs clothed) soccer game. We charged hard all game but with a total lack of skill, we lost.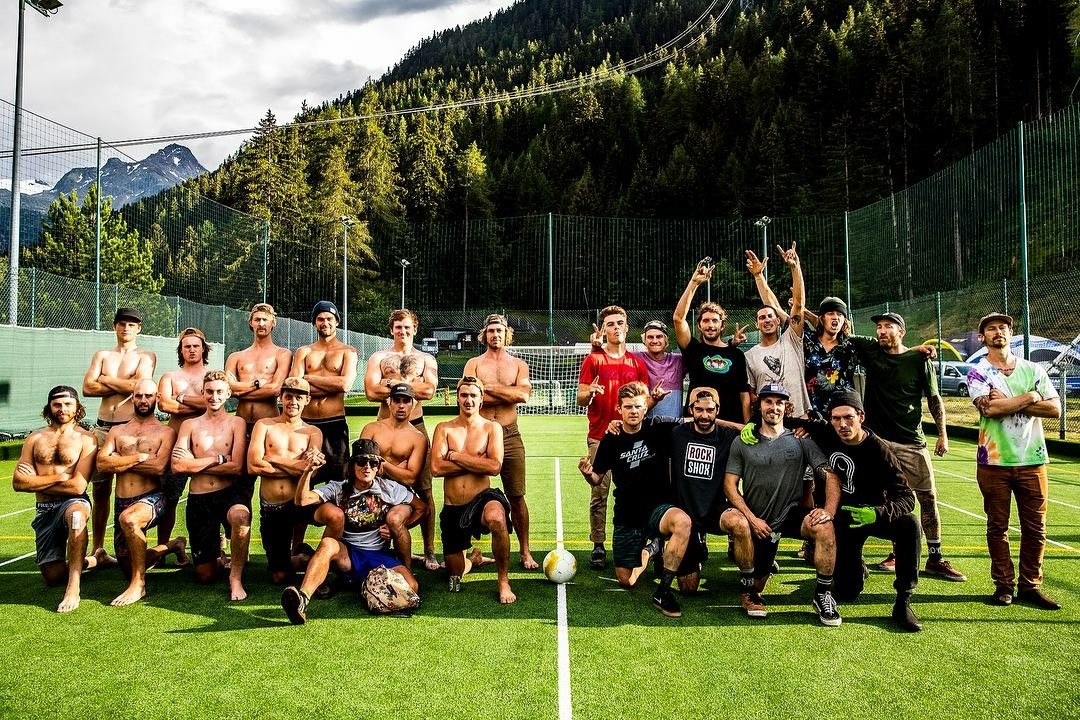 Week 10:
We headed back to Morzine to relax and pack our bikes for Canada. As the week passed by, people started leaving and the group was shrinking. I had planned to keep my van and come back to Europe after Canada and race the last round and hopefully world champs. 2 days before flying out, almost everyone was gone and I had just received the news that I was not on the worlds team, but #1 reserve. A little annoyed I decided I would extend my stay in Whistler and fly home after. I put my van and trail bike up for sale that day, and somehow managed to sell them both! I booked a bus to the airport, packed my DH bike and belongings up and headed for the airport the following day. Arriving in Montreal a day before the pivot team (who I would be jumping in with for the MSA round), I slept the night in the airport and waited for their arrival the next day. We got a rental and headed to Bromont for a few days. It was nice and hot at Bromont so we spent a few hours in the bikepark and then hit the water park. (Look in the carpark bins for wristbands people tear off when they leave and save yourself $40 entry)
Week 11:
We made the trip to Mont Saint Anne Monday morning and arrived just after lunch and set the pits up.
The next day we headed out for some 4×4 action in the Chevy pickup rental, followed by some go karting. Wednesday was track walk. The track was pretty much the same with one new section that looked really slow and technical, which ended up catching out allot of top riders in finals.
For the first time this season I was in B practice as there are never many riders in MSA. First on track for Thursday morning and it was real slick. Took it easy first run, and second run just cruising and washed the front wheel of a semi fast section over a drop and went over the bars and onto my back. I rolled to the bottom but the pain was so bad, there was a nerve being pinched in my back that sent sharp pains down my leg. I tried to ride another lap the next day but it was impossible. I decided to sit this one out and heal up. We had an early flight Sunday morning and we left about 4.30am.
Week 12:
Crankworx Whistler
We arrived in Whistler Sunday arvo around 3pm. We checked in to the room and that's pretty much where I spent most of the time until Thursday whip off. I had a few physio sessions with some dry needling and ice baths and my back was feeling a lot better but still only about 50%. I got through whip offs and a few days of DH practice and was feeling pretty good so I decided I would race the DH. On Sunday I got to the top of the track about 40 minutes early and was just chilling, keeping an eye on the numbers and waiting until they got down to around 50 to go up (i was 41).
It was a few minutes until I was meant to go down but #105 was in the gate, so I went over to see if there was a hold up and they told me numbers weren't in order and I was actually meant to be in the gate instead of #105. I jumped up with my bike and I had about 20 seconds to get my helmet and gloves on, I went into negative time by the time I took off! I had a fairly clean run, almost going down hard in the woods before hecklers rock, but somehow pulled it back and ended up 21st. A few beers and a big night in town followed!
Week 13:
It had been really smoky all week due to nearby wild fires and it wasn't too great riding the park. We got a few laps in each day and then just chilled out the rest of the time.  I had booked a flight home for Saturday for 9pm, the same flight as one of the boys so we could shuttle together to the airport. When I woke up Saturday morning at 9am and double checked my flight, turns out it was 11am! I spend the next 2 hours on the phone explaining that my shuttle had been in a car accident and I wasn't going to make the flight. I managed to get the flight cancelled and rebooked on Monday afternoon for about $200. My bike was already packed and ready to go so I spent the next few days hanging around the village and at the lake. I got the shuttle to the airport Monday morning and was checking in to my flight on the self check in computer to avoid paying oversize on my bike box. I had just printed my bag tags out when grouch the check in lady came over to investigate. She explained that my bike would cost $150 in oversize and they only accept card payment. I told her I had no money left and continued sticking the tags on the box. After about 5 minutes of pretending to look for loose change in my bag she gave up and let me go. After that it was all smooth sailing and before I knew it my 3 month Euro trip was over and I was back in the cold of Sydney airport!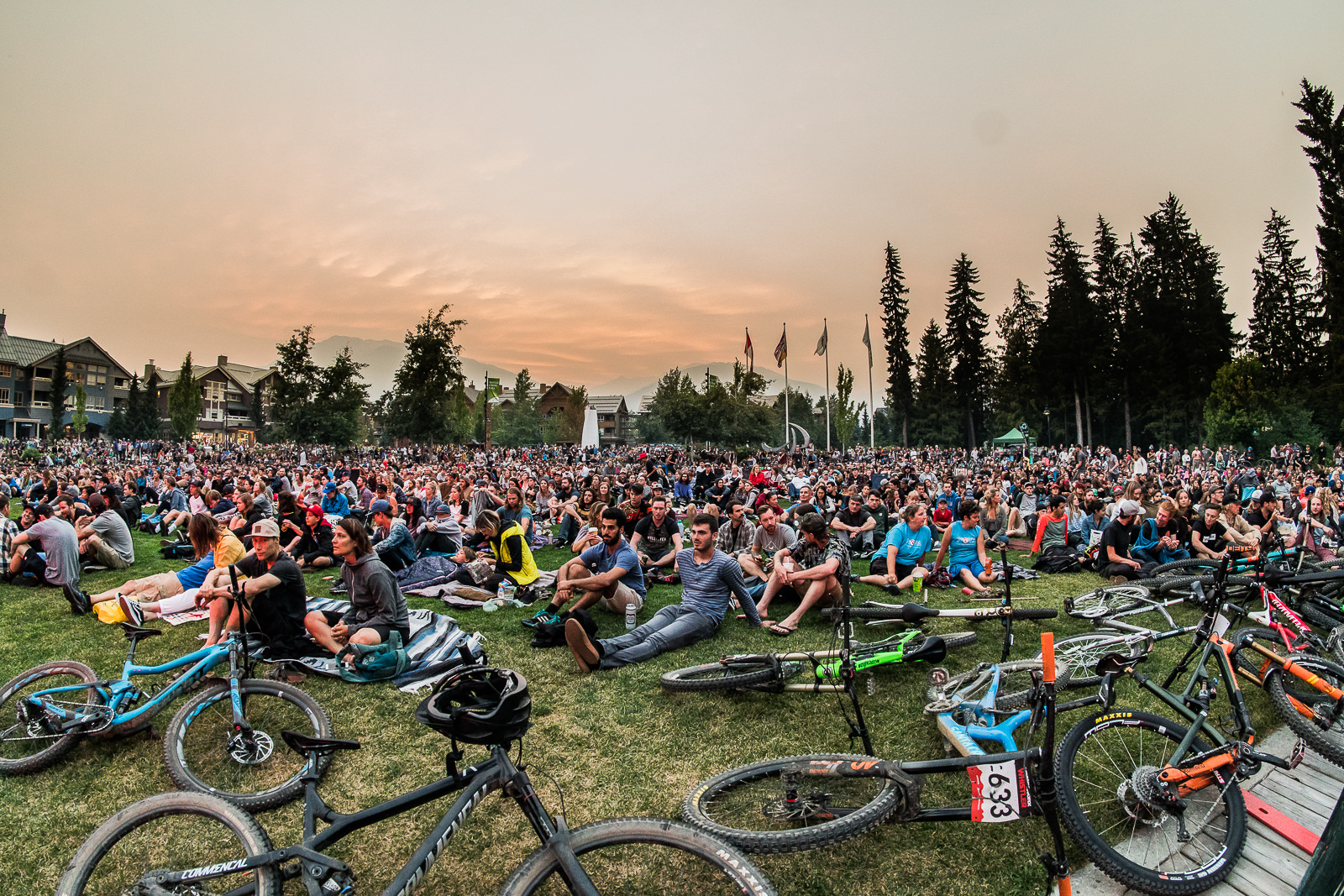 As bad as things went throughout my trip, things couldn't have gone any better! The best advice I could give to anyone planning on doing the van life in Europe, don't plan too far ahead, things can change in a second. Don't stress if things go bad, it will always work out. And always try and travel with at least 1 other van!
Tips:
Buying a van:
Buy in the UK, they speak English and the steering wheel is on the right side of the car.
If trying to buy before you get there, don't put down a deposit of any more than 50£
Cheap Vans sell fast in the UK, so its hard to organise a sale before you arrive. Do all your research a few days before, make a list of vans and phone numbers and start making calls when you get there.
Buy a Three sim when you land, 25£ gets you 30gb data, plenty of call minutes and you can use it in almost every country.
Leave your bike box in airport storage for a day or 2 while you find a van.
A Ford Transit is probably the best van to buy. They are the most common, cheapest parts, and if you get a service done on it in the UK, you get free roadside assistance in the UK and Europe.
Make sure you have a UK address to get the rego papers sent to, cant buy a van without one.
DUinsure is the best insurance company to use, its about 100£ a month. You NEED insurance.
The longer the MOT the van has, the easier it is to re-sell
Booking flights:
If you plan to fly to Canada after Europe or anywhere else, try to book as late as possible in case anything goes wrong or you cant sell your van in time. International flights only go up a few hundred dollars and its much cheaper and easier than rebooking if you have to. I book all my flights around 1-2 weeks before I need to fly.
Thanks to Jake for taking us on his wild adventure!
Images: Jake Newell (Instagram @_newellydox_ )
Get more content on Facebook or follow us on Instagram & Snapchat: @downhill247